Abijah Gupta

LIVE @ TRU, Kamloops (2015)
Background Information
Birth Name:
Abijah Gupta
Born:
September 21, 1990 (age 26)
Origin:
Brussels, Belgium
Genres:
Instrumental, Electronica
Instruments:
Piano, keyboards
Years active:
2006-present
Alma Mater:
Thompson Rivers University
Hello, Namastey, Sat Sri Akal!
My name is Abijah Gupta and I'm a big fan of great Pizza, movies, softwares and casual photography. I blog about my music, iOS music apps, Digital Audio Workstations and other tips & tricks.
Background
---
I was born in Brussels, Belgium on September 21, 1990. I moved to Punjab, India at the age of 7, where I did my schooling. Growing up in India, I had a strong passion for Indian classical and fusion music. I've enjoyed playing with local friends in a band during my schooling years both in high school and university. After high school, I graduated with a Computing Science Operations Management (CSOM) Diploma at Thompson Rivers University, Kamloops, Canada in 2009, followed by a Bachelors in Business Administration with Human Resources as my major in 2016. Since 2011, I've been interested in the exploration of electronic music arrangements.
Interest in music
---
My fascination for the keyboard opened up a universe of various instruments' voices. Apart from the Grand Piano, I could play the Guitar, Drums, Flute, Organs, Bass right on the keys. I didn't take music lessons but gradually developed a good sense of playing by ear. Over the years, with the help of YouTube tutorials, peers and other sources, I've learnt a good number of songs ranging from Indian to Western, Classical to Hip-Hop and so on.
Musical Influences
---
When I was a kid, my father would often sing Mukesh and Rafi songs. Eventually I started singing along too. However, I wasn't very passionate about singing since it required memorizing lyrics which I wasn't (and still ain't) very good at. Hence, becoming an instrumentalist came rather naturally to me.
I grew up listening to beautiful Piano music by Brian Silas, compositions by AR Rahman, and contemporary instrumentals by Yanni. I was drawn to their music mostly because they're all keyboardists themselves.
Keyboards
---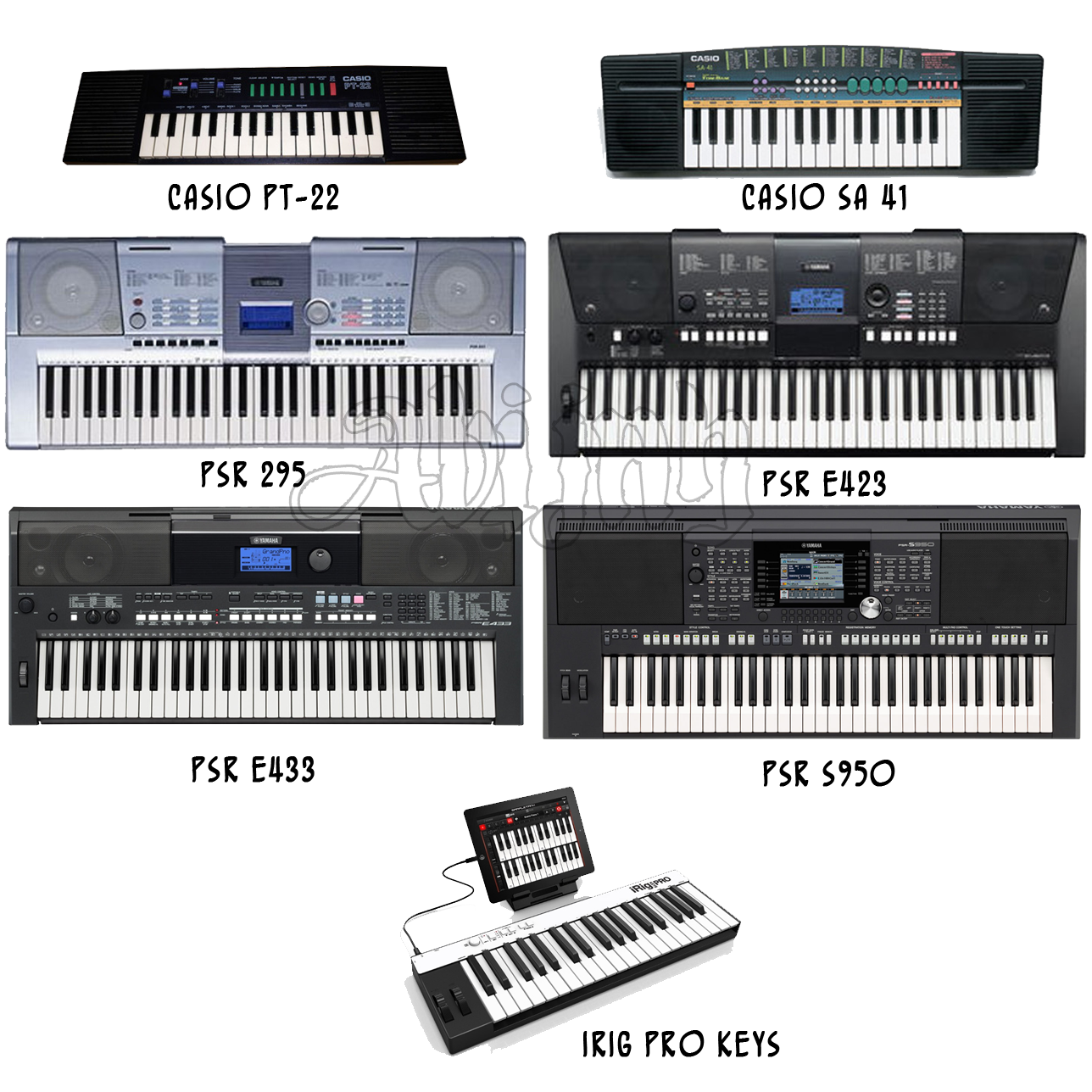 My parents gifted me a CASIO PT-22 29-keys keyboard when I was 6. Since then I've played the CASIO SA-41, YAMAHA PSR-295, PSR-E423, PSR-E433 and on my 24th B'day my parents gifted me a YAMAHA PSR S950 Arranger Workstation.
Dual keyboard setup
---
Even though modern keyboards have eliminated the need for separate boards for various voices, I have grown comfortable with using a 2 keyboard setup now. My YAMAHA PSR S950 workstation is my primary keyboard and soundboard, accompanied by IK Multimedia's iRig PRO Keys which is a 37 key MIDI controller designed to complement the DAW app named SampleTank by IK Multimedia.
Solo career (2007 - present)
---
Since 2007, I've tried focusing on performance oriented tracks. As a part of a school project, I recorded a cover version of Pt. Shiv Kumar Sharma's
Rachna Mishra khamaj thumri ang
using a headset's microphone and Sonic Foundry Sound Forge (now Sony Sound Forge). With the passage of time, I recorded various instrumental tracks ranging from Hindi to English and Devotional to Classics. Shortly after, I put up many of my recordings on a website under the name
Angelic Delight
. Top downloads included the cover version of the Titanic theme piece which was downloaded nearly 27,000 times.
Now I offer FREE high quality downloads via Dropbox and Google Drive.
Since 2011, I've been focusing more on live performances, both physically and virtually.
Albums/Singles
---
Having played and recorded several cover versions on my keyboard, I experimented with arranging pre-made loops. 7 tracks later,
Spiritus
was born. I released it on my website and The Pirate Bay as a free download. The album fared well with multiple downloads and great reviews. A month of revision later,
Spiritus
was released online, worldwide, on all leading music services including iTunes, Spotify, Nokia, Xbox and Amazon MP3. In February 2014, I released the
Intoxicated
album.
As of December 2016, I've released 2 albums and 12 singles, along-with a handful of keyboard recordings. Starting October 5, 2013, I made all of my music available for free download. All proceeds from the iTunes versions of the same tracks go to various charities.
Projects & Collaborations
---
Even though my keyboards have built-in band/orchestra accompaniments, sometimes it's more fun to jam and work on projects with others. In 2015, I teamed up with my work colleague and Canadian photographer Nathan Piazza to shoot my first official video for my iTunes single - Sunrise. We chose to showcase the top 6 locations to visit in Kamloops. It was also my first on-screen appearance in my own music video. Watch the video here.
In 2016, I teamed up with Canadian Sarode artist Kenneth Wells, along-with other talented friends to make the NamasteTRU compilation.
Here is Ken playing a reprise version of his original track with us - Bombay Train
I also teamed up with the amazing cinematographer
Japneet Singh
to make my first official cover video of
John Lennon's 'Imagine'
, followed by a cover version of
'1920'
Discography
---
Official Social Media Profiles
---
Facebook
Twitter
Google+
YouTube
SoundCloud